How to chose your compression size properly?
First, you'll have to take some measures by following the drawing below, and put them on the board that you'll find at the end of each product page (by clicking the button "determine your size").
These steps are very important to be sure you get the most effective compression, adapted to your body shape !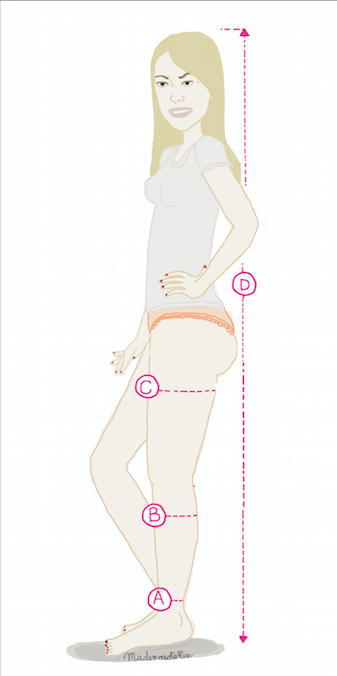 You will need to measure your legs from top to bottom. Compression products are very different from any basic tights or socks. To take your measures, take a measuring tape, or, if you don't have one, take a string and report the measures on a measuring tool. 
A. First measure is essential : the ankle, two fingers above the malleolus (the bone on your ankle) where it's the thinner.
B. Second measure is three fingers under the popliteal hollow (right behind your knee), where your calf is the widest.
C. Third measure is under your bottom (circumference of the thigh).
D. This measure is your height.
Please note these measures in the chart below each product page by clicking the button "determine your size". Your size will be automatically chosen ! No risk of getting it wrong ;)
A question? Need help?
Please contact us directly through our contact form, we will answer in a very short term. 
You can also ask your questions via the chat on the right corner of your screen ;)